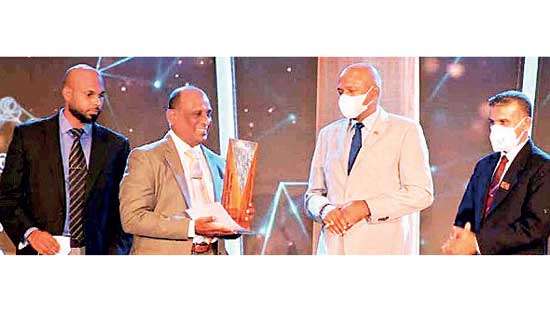 Cocotech Exports Lanka Wins Silver Award for Industrial Excellence – Business News
---
Managing Director of Cocotech Exports Lanka, Tissa Kumarasiri receives an award
Cocotech Exports Lanka, a Sri Lankan company manufacturing and exporting coir value-added products, won the silver award in the coir value-added products category, at the Industrial Excellence Awards organized by the 'Industrial Development Board (IDB).
Managing Director of Cocotech Exports Lanka, Tissa Kumarasiri received the award during the awards ceremony held under the patronage of President Gotabhaya Rajapaksa and Minister of Industry Wimal Weerawansa, at Waters Edge.
Cocotech Exports Lanka has won industry excellence awards consecutively since 2017.
Founded in 1997, Cocotech Exports Lanka exports a wide range of high quality coir products to countries such as Europe, Australia, New Zealand and Canada etc. decorative coir pots, nursery coir pots, plant support coir poles, molded coir bottoms, coir peat and bricks, grow bears and boosters, bags, planter bags, erosion control products.
All products are made from 100% perishable materials and are a great alternative to plastic pollution. Cocotech Exports Lanka products are completely eco-friendly and sustainable.
"I am very happy to be able to earn foreign exchange in times of economic crisis and to have the opportunity to engage in environmentally friendly production. We are ready to introduce many new products in the future with constant innovation. I would like to take this opportunity to ask all Sri Lankans to switch to using environmentally friendly products. I see it as a social responsibility. I would like to thank all the dedicated members of our staff, who supported the victory," Kumarasiri said.