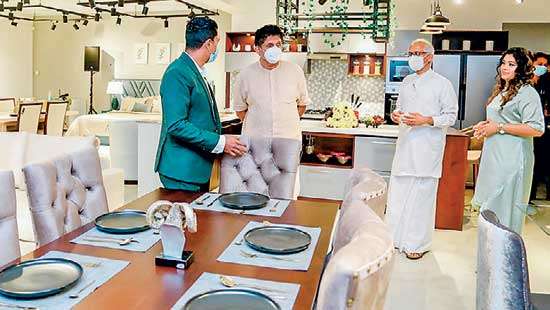 'Finez Concept Store' unveiled in Colombo – Other
---
Colombo saw the addition of a new lifestyle store, Finez Concept Store, which was recently unveiled to the public.
The store which offers locally made contemporary furniture, homewares, home decor items and interior design services under one roof, was officially launched under the patronage of opposition leader Sajith Premadasa and others distinguished guests, supporters, suppliers and customers.
The entity is led by Dhanushka Fernando, an award-winning entrepreneur. He has gradually evolved his brand with many lovingly planned innovations and is changing the way the industry works by adopting a unique business model.
"Furniture can be a status symbol for some, but we want to go beyond that traditional notion. Our business is designing functional furniture, retailing housewares and decorative products with a focus on changing market trends and dynamics," said Fernando, Founder/CEO of Finez Capital Ventures .
The launch of Finez Concept Store was an important step in taking the company beyond the woodworking and furniture manufacturing industry, which has barely changed for generations, he said.
"We were able to bring together people with new thinking while creating two fully-fledged factories where the focus was on introducing new designs and creating a unique brand identity. We realized that the strength of small carpentry business is critical to our continued growth," added Fernando.
As part of the company's business model, carpentry companies are provided with financial assistance, training and skill development facilities.
"They are an integral part of our growth strategy and we believe that the only growth a company can achieve is collective growth," Fernando stressed.
Commenting on the launch of the store, Leader of the Opposition Sajith Premadasa highlighted the export potential of the local furniture manufacturing industry and added that emerging businesses in the local market should be facilitated to access the regional market.
"These are challenging times for businesses and I am pleased that FINEZ has taken a bold step by launching the Finez Concept Store. Such innovative and bold initiatives are needed to overcome the current challenges we face as a nation" , said Premadasa.
Having entered the Sri Lankan market in 2015 as a furniture store, Finez has redefined the industry by designing and manufacturing a creative and unique collection of furniture products combined with superior customer service.
The business has grown rapidly, bringing together a unique ecosystem encompassing local Moratuwa carpenters and artisans, interior designers, decorators, apartment dwellers, skyscraper builders and many others who have trust the brand.
Finez Concept Store continues to be part of Finez Capital Ventures, a diverse organization that is also engaged in manufacturing and retail, residential and commercial interior project planning and execution, providing corporate branding solutions, signage and outdoor advertising, retailing of household goods and decoration products and capital investments for SMEs.
As part of a strategy for continued growth and expansion, www.finez.lk was launched as a full-fledged e-commerce platform.
In recognition of his outstanding contributions in his field, Finez received the "Asia's Outstanding Furniture Brand Excellence Award for the year 2020/2021" at the prestigious Asia Awards – Asia's No.1 Brand Excellence Awards show.
Additionally, the company was one of the first in the industry to begin marketing on digital and social media platforms in 2015. Currently, it has over 170,000 social media followers.