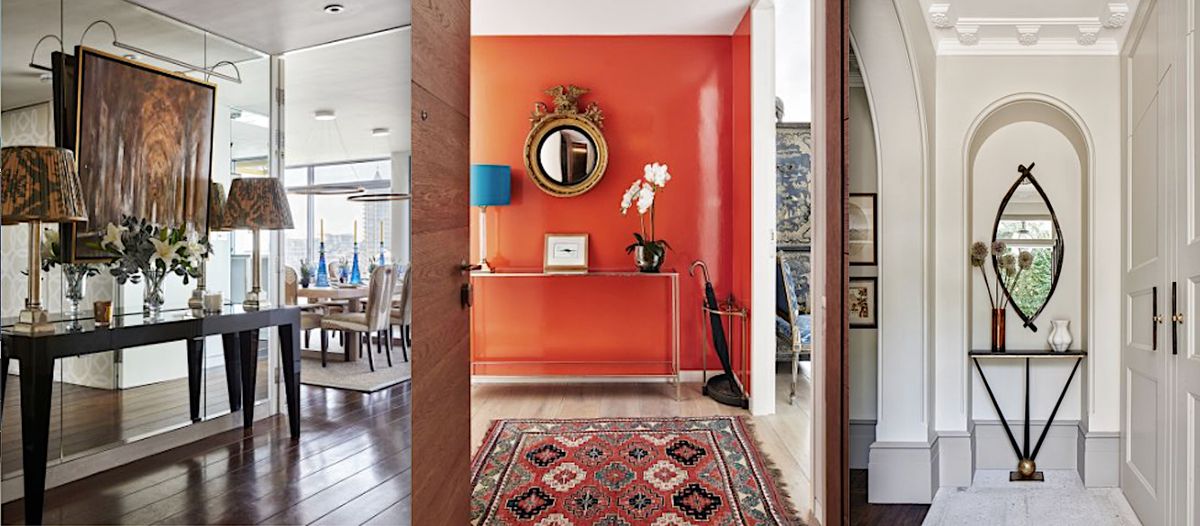 Hallway Mirror Ideas: 10 Ways to Brighten Your Entryway
Hallway mirror ideas are a quick and easy way to instantly transform the look of an entryway. A brilliant way to maximize light and create an illusion of space, mirrors can play an important role in creating a warm and uplifting welcome for guests as they enter your home.
"Mirrors are the easiest way to make a space look bigger and brighter, especially in areas like a hallway where it can be dark and cramped. Having one by the front door also gives you the perfect opportunity to check on your last-minute outfit before you leave the house," says Sam Hood, Co-Founder and Chief Creative Officer at Amara.
As well as their practical uses, with so many designs to choose from, mirrors are a great opportunity to introduce personality into a hallway, which is a space that can easily be overlooked when it comes to decorating. To inspire you, we've rounded up a range of mirrors to add to your list of hallway ideas.
hallway mirror ideas
Hallway mirror ideas may not be at the top of your decorating list, but decorating with mirrors can make a big impact on a space and is a particularly effective narrow hallway idea, as they instantly give the impression that a room is wider.
As spaces we don't spend a lot of time in, it can be easy to overlook hallways when it comes to decor, but they can be a fabulous place to make a design statement to impress guests.
"Don't think you have to stick to a traditional rectangle, you can create as much impact with a sculptural mirror as you can with a piece of art, so I like to look for more unconventional shapes to make a real statement ", says Sue Jones co-founder and creative director of Okay.
1. Choose a large architectural mirror
If you have a home of grand proportions, why not take inspiration from architecture and showcase an oversized architectural mirror? Echoing a window frame, this large mirror enhances the symmetry, light and luxury of this space while lightly aged glass adds delicate texture.
2. Make a feature of an alcove
Alcoves can be beautiful architectural features – rather than enclosing them, why not make them a feature by adding a sculptural mirror and console table, as demonstrated here?
This sleek and stylish hallway mirror makes fantastic use of cramped space and is a brilliant way to create a decorative feature in a small room where decorating options are limited. Placed just in front of the front door, this mirror reflects as much light as possible into the space, which is particularly useful in a hallway.
3. Opt for a sleek circular design
Since functional spaces are often paved with hard, practical floors, hallways can sometimes feel cold and unwelcoming, but adding a circular mirror will instantly soften the space.
"We often like to use a round mirror. The curvature contrasts nicely with the sharper lines of a console table or a light fixture in a hallway, bringing a softer feel to the space," says Louise Wicksteed, design director at Sims Hilditch.
A circular mirror is also a lovely cottage hallway idea, especially when combined with rustic natural material furniture and accessories and an aged limestone hallway floor idea.
3. Maximize light in an apartment
If you have a small hallway or are looking for entryway ideas for apartments, consider a floor-to-ceiling reflective surface as it is the ultimate device for increasing light and space.
To bring even more light into a space, consider pairing reflective surfaces with hallway lighting ideas. Positioning table lamps on a console in front of a hallway mirror will allow extra light to be reflected around the space after dark.
5. Add period grandeur
Reminiscent of a Parisian townhouse, this beautiful wainscot features an integrated mirror contributing to an air of opulence and luxury. In this case, the ornate woodwork of the wainscoting creates a frame for the mirror, but for those without ornate wainscoting, you may consider searching antique stores for beautiful old designs with decorative frames.
6. Finish off a quirky look with an antique fisheye mirror
Antique gilt mirrors make a beautiful decorative statement in the traditional hallway and are a natural fit for period properties. However, they can also make a quirky statement when paired with contemporary furniture and bold hallway paint ideas, as shown in this quirky space.
"Whether you're buying gold pieces for investment or for purely decorative reasons, you can choose from a plethora of different mediums. Statement overmantel mirrors are all the rage right now," says an antiques expert Marc Allum.
"A vintage Chippendale or Adam style mirror can cost tens of thousands of dollars, but the Victorians and Edwardians made countless reproductions of them. Other popular styles include Regency convex mirrors with eagle overlays and Regency triple-plate overmantels with pictorial gesso friezes, which were also later reproduced," he adds.
7. Introduce a splash of color
One of the first things guests see when entering your home, a hallway mirror is a great opportunity to make a statement that reflects your personality, setting the tone for the rest of your interiors. With a multitude of designs with decorative frames to choose from, there is bound to be a style to suit your taste. This colorful circular design by Jonathan Adler brings a retro touch to this simple space.
8. Create a sense of relaxation with a tilted mirror
A full-length mirror in a hallway will reflect maximum light into a space, but it's handy for checking on your outfit and appearance before you leave the house. If you've fallen in love with a mirror but are worried about its weight hanging on the wall, leaning it can be a practical solution – this is often a good way to display large old mirrors as they are particularly heavy. In fact, the weight of a mirror is a good indication of its age when it comes to finding genuine antique mirrors.
Angled hallway mirrors also prevent damage to walls, although it might be a good idea to install an anchor hook to secure it from above. Leaning a mirror also means it can be easily moved around if you fancy a change.
9. Brighten up a cottage hallway
Hanging a hallway mirror is a quick and easy way to increase light. Although full of beautiful original features, chalets often have small windows and low ceilings, which means they can lack light. Installing a wall light above a mirror as above is a smart addition as it will allow even more light to be reflected back into the room.
Look to flea markets and antique stores for decorative designs and don't worry about chipped paint or foxing glass – it can all add to the charm. In this character hallway, the mirrors also serve to frame the decor of the entrance table.
"A large rectangular mirror brings elegance and gravity to the room, especially when it comes from an antique shop," says Louise Wicksteed, design director at Sims Hilditch.
10. Opt for stylish circles
Mirrors, floors and lighting ideas are all great ways to add a decorative touch to white and neutral hallways, as this space proves. Complementing the strong lines of the hallway paneling, this elegant circular mirror from Amara works with a striking geometric floor and a sculptural modern light fixture to complete this vibrant modern hallway idea.
Is a mirror good in a hallway?
Mirrors are a great way to make a hallway instantly brighter, bigger, and more welcoming, and they can also create a beautiful accent in a small space.
"A hallway is the first part of your home that everyone will see upon entering, so it's important to make sure it accurately reflects your personality and style," says Emma Deterding, Founder and Creative Director, Kelling designs. "To keep a brighter feel, opt for neutral tones on the walls as they will keep the hall cool and use a large mirror to help reflect light while giving the illusion of space."
Where should mirrors be placed in a hallway?
Being narrow spaces, hallways benefit from having mirrors placed on the wall as it will instantly make the spaces look wider. Mirrors work particularly well hung above a console table at a convenient height to check your appearance before you leave the house.
Alternatively, a large mirror can be leaned against the wall providing maximum light reflection and a full view of your outfit before you leave the house. Presenting a mirror in this way also avoids damaging a wall and makes it easier to move the mirror.
If possible, try to position a mirror opposite or next to a light source, as this will allow the most light to be reflected back into the space.