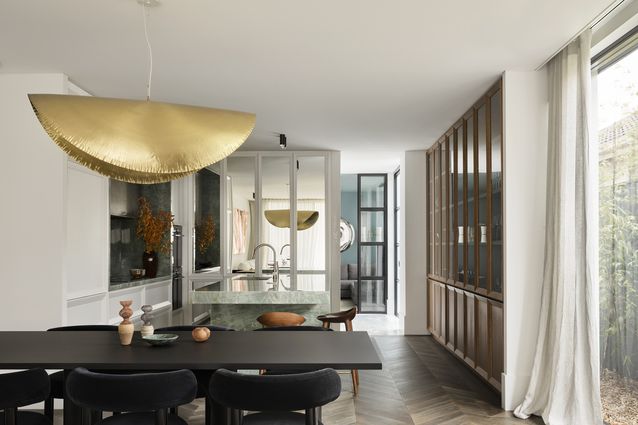 Ideal for an artist: Mirror Image by Smac Studio
When Smac Studio Founder and director Shona McElroy was approached to turn the home into a two-story duplex in Dover Heights, the brief said the design had to be fit or an artist, and clients specified they wanted it "to appear like it came out of a magazine."
Clients also said the house needed to be light and bright – a quality that many duplexes lose due to a windowless dividing wall.
McElroy's makeover followed a "modern design with an old-world European flair". Classic European accents – noticeable in the Venetian plaster walls, shaker kitchen profile, herringbone floors and curved walls – are punctured by a surprising and generous use of color and texture, rose quartz sconces with burnished bronze fixtures.
McElroy created a formal entrance meant to create a definitive sense of arrival. An Elba marble staircase winds up to the first floor, housing a Christopher Boots Drop pendant lamp and a bronze statue of Tom Corbin.
"It was a big priority to get the formality of that entrance and to allow people to come in and have their moment of wonder, where they then had the choice of going to the public spaces, the private spaces or kids' spaces," McElroy explained.
In the kitchen, Esmeralda Quartzite has been used to shape a dramatic cantilevered worktop with plenty of room to gather. "I was very keen on having the half of the island be solid with a big counter towards the dining area, because I wanted people to be able to get together and sit down," McElroy said.
The marble is a dreamy sage green with fine veins of bronze, which complements the solid burnished brass range hood above the cooker. Floor-to-ceiling mirrors have been masterfully deployed to conceal the joinery and reflect the northern light through the kitchen and create the illusion of a larger space. The mirrors are also broken up with a playful shaker profile, disguising a hidden functional butler's pantry.
The kitchen has been fitted with a large bespoke wooden display case in a pine cone veneer, housing artwork and ornamental pieces. The flooring throughout features a chevron parquet detail edged with straight panels, contrasting with the cool marble countertops.
"We left some walls bare so we could bring art in because I think a home without art doesn't showcase the client enough," McElroy said.
In the dining room, a Gervasoni pendant light hangs above a matte black table in fine, hammered brass. It is designed to be dynamic and gently undulate when the air around it is disturbed. On the adjacent wall, McElroy has mounted a soothing piece by Rick Carlino which she says "makes you feel like you're underwater."
The living room is surrounded by sheer willow linen curtains that create soft, diffused natural light throughout the living room. A two-metre-long sculptural rose gold artwork by Anya Pesce is the focal point of the space, echoing the reflective play of light throughout the house. A burnished brass TV cabinet is lined with a plush ruby ​​velvet banquette, providing a warm and soft contrast to the hard Elba marble.
Mirror Image is an experiment in contrasting and sometimes opposing materials, plunging into an unconventional yet striking interplay of surfaces ranging from Venetian plaster to burnished bronze and, of course, mirrors. McElroy manipulates light to his advantage with the many reflective surfaces, satisfying the client's specification for a light and bright home and creating a greater sense of space in the duplex.
"It's one of those projects that people don't expect to like, but they do," McElroy said. "It may sound 'noisy', but when you're in it, it has so much personality and warmth. The mishmash of materials looks rich but still quite simple.